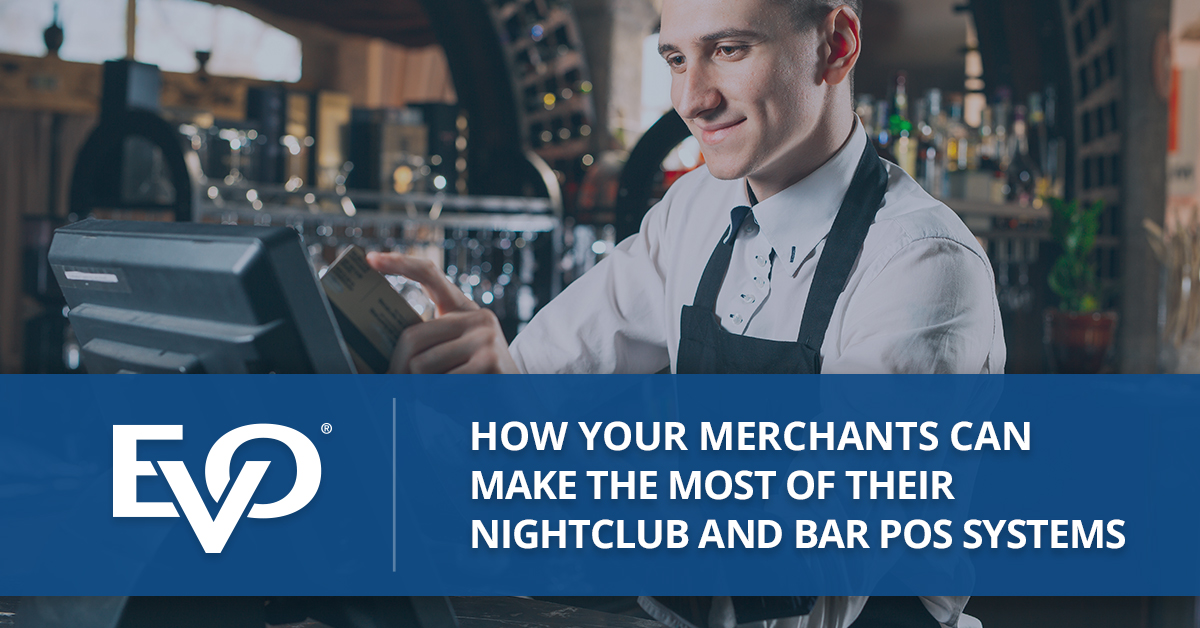 The right nightclub and bar POS system can help your merchants to improve billing accuracy and boost their bottom line.
Operating a nightclub or bar can be a lucrative endeavor for your merchant, but they must make sure they keep the drinks flowing and the crowd happy. According to a report by First Research, "The U.S. bar and nightclub industry includes about 41,000 establishments (single-location companies and units of multi-location companies) with combined annual revenue of about $24 billion."
The right nightclub and bar POS system can help your merchants to improve billing accuracy and boost their bottom line. Features such as tab pre-authorizations, tab transfers, and next-round ordering with just the touch of a single button can make it much easier to provide customers with the speed they expect and the security merchants' desire.
In order to take advantage of all of those benefits, your merchants need to make sure they choose a point-of-sale system that will allow them to do everything they need to do in their bar or nightclub with ease.
Inventory Control
Among the most important elements of ensuring a successful nightclub or bar is understanding consumption patterns. By gaining insight into the consumption patterns of your merchants' clientele, they can not only eliminate waste but also ensure that they always have stock on hand. This can also prove to be vital in terms of designing promotions and marketing campaigns for boosting business during slow periods. Real-time reports from your merchants' POS also give them the ability to specify quantities and ensure that bar staff is held accountable.
Management Reporting
Pouring drinks is only one aspect of operating a successful bar or nightclub. Back office management is also vital. With the reporting capabilities of a nightclub and bar POS system, your merchants can increase profits and reduce costs, obtain greater insight into staff productivity, voids, and determine which menu items are performing best.
Efficient Service
Implementing a POS system in their nightclub or bar gives them the ability to easily start tabs and ensure payment. Take advantage of the opportunity to create instant pre-authorizations with one quick swipe of their customer's credit card. Automatic price scheduling can even be created for special promotions, including happy hour. When customers want to order another round, it's as simple as touching a single button. As a result, your merchants can keep the drinks flowing with an open tab and ensure the satisfaction of their customers.
Running a More Efficient Operation with a POS for Nightclubs and Bars
Even a busy bar or nightclub can operate smoothly and efficiently with a point-of-sale system designed for the bar industry. In order to make the most of your merchants' POS system, it is important to make sure that they have all of the features they need.
Opening and Closing Bar Tabs
Among the most important features merchants should consider in choosing a point-of-sale system for their nightclub or bar is how easy it will be to open and close bar tabs. When customers are ordering drinks, your merchants do not want to interrupt the good times with a time-consuming or difficult-to-operate bar tab system. With a POS for nightclubs or bars, they can begin a tab by simply swiping the customer's credit card. This also makes it much easier to run multiple tabs for large parties, thus helping to reduce confusion and ensure that all drink orders are properly accounted for.
Ability to Reduce Waste
In a bar or nightclub, it can get very busy very fast. In all of the commotion, it can be easy for drinks to be poured and unaccounted for. When this happens, it can put your merchants' business at risk. Traditional systems of simply keeping a tab open on paper can be time-consuming and risky. Nightclubs and bars that install POS systems are able to take advantage of the ability to make staff more productive while also reducing waste and boosting profits. Everything is handled electronically. This enables bartenders to spend more time pouring drinks and keeping customers happy than adding up tabs.
Customization
There is a reason that patrons keep coming back to bars where everyone knows their name. They enjoy being recognized and valued. With the right POS system, it is possible to ensure that your merchants' customers in their bar or nightclub always feel like regulars. They can take advantage of the opportunity to look up regular customers based on their name as well as email address or phone numbers, and as a result, can make suggestions based on previous orders.
Required Equipment
In determining the best POS system for your merchants' nightclub or bar, they will need to take a variety of factors into consideration. Among the factors they need to consider is the type of equipment that is included with their POS and which type of equipment they will need to acquire separately. For instance, your merchants will need to determine the number of terminals they require, as well as whether they need a kitchen printer. In the case of the latter, this may depend upon whether their bar or nightclub also serves food.
Inventory control, management reporting, and efficient service should all be integral parts of your merchant's choice in selecting the right point-of-sale system for their bar and nightclub businesses. These items will allow them to run a more efficient operation with the ability to reduce waste, improve customer experience, and have the required equipment.