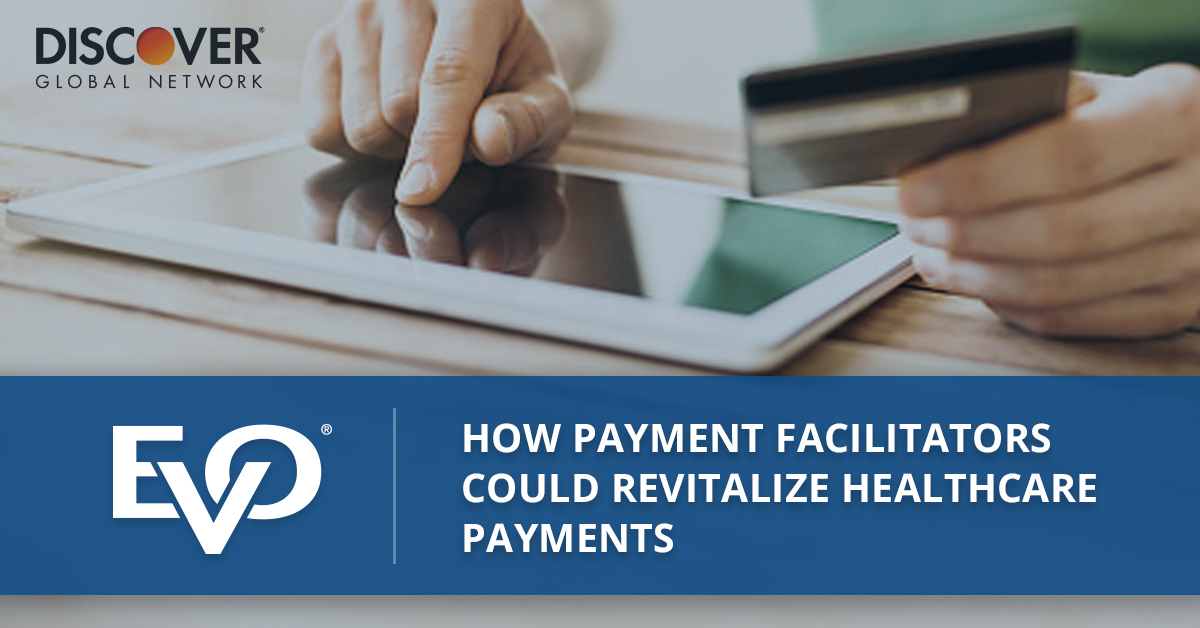 Sponsored content by:
The current consumer payment experience in healthcare is unpleasant, to say the least. A patient contemplating a routine surgery is hard-pressed to find straightforward information about different providers and what they charge for procedures, making the decision-making process stressful and confusing.

Once they've had the surgery, they might receive three different statements about what their insurance covers and what they owe, adding another layer of aggravation and worry on top of the healing process.

Consumers endure this confusing scenario all the time, and they deserve better, says Bill Dulin, vice president of global business development at Discover® Global Network.

"Right now, [the healthcare payments ecosystem] is highly fragmented," Dulin says. "It's archaic, with a lot of paper-based activity, and information—or lack of information—coming from multiple sources."

According to Dulin, what patients need is a high-level integration of payment platforms and healthcare data. But it's not as simple as banks and providers collaborating on more efficient systems. "A bank is never going to want to hold HIPAA information in the same way a healthcare provider is never going to want to be considered a bank holding company," Dulin said. They're entirely different types of organizations and neither wants to wade into the other's industry and regulatory space, he emphasizes.

That's why the path forward lies with payment facilitators. By combining cutting-edge technology and the data held by healthcare providers with the regulatory expertise of financial institutions, payment facilitators can drive better consumer experiences and achieve greater outcomes for their business partners.

A Union of Established and New
The payment facilitator model has gained increasing attention in the industry, particularly as agile startups enter the payments space. Broadly defined, payment facilitators are able to accept payments on behalf of another company. In essence, payment facilitators are a third-party that processes payments on behalf of their own merchant clients.

Many payment facilitators begin as independent software vendors (ISVs) that expand their capabilities to include payments, as they can leverage deep knowledge of their customers to create tailored payment solutions for that audience.

Payment facilitators are exciting because they make natural partners for legacy organizations. Oftentimes, startups are leaner and more adaptive than long-standing corporations. They face less constraints due to regulations and bureaucracy, so they're able to innovate more quickly around new technologies and customer trends.

But the legacy organizations bring a great deal to the table as well. They, too, possess tremendous amounts of data that can be used to build a better customer experience. Payment facilitators can help them do so in ways that meet the unique needs of their users and clients. Corporations also understand the complexities of regulatory and compliance requirements at a level most startups have yet to face, so their assets and abilities complement one another.

Payment Facilitators in Practice
In the healthcare industry, a payment facilitator might partner with a healthcare provider to create a streamlined payments system that gives customers transparency and autonomy throughout the process.

When it comes to making the process easier for patients, Dulin envisions a platform through which consumers could search for providers according to their medical needs, find out which ones are covered by their insurance carriers, and compare costs across the different organizations.

Rather than receiving multiple hard-copy bills and statements about insurance coverage, patients would be able to log onto a single website, review their accounts, easily see what they owe, and select their preferred method of payment there. The payment facilitator system would also handle settlement on the back end, creating an easily traceable, automated workflow for consumers, providers and financial institutions.

Importantly, payment facilitators would also create flexible payment options for consumers in high-deductible insurance plans. A patient who knows they need a costly surgery but who hasn't yet met their yearly deductible will benefit from being able to see the long-term math on their obligations—directly on the payments site. Depending on the options the provider and its partners have established, the patient may be able to make arrangements for an installment agreement, apply for financing, or use a combination of payment methods to cover the costs.

The need for flexibility and consumer control is becoming more urgent, as 42.6 percent of employees are enrolled in high-deductible insurance plans, according to the State Health Access Data Assistance Center.1 Researchers from the Kaiser Family Foundation recently reported that spending on deductibles and co-insurance has risen faster than workers' wages,2 further exacerbating the demand for more and better options in how people manage their healthcare expenses.

The Next Phase: Data 2.0
Data will lie at the heart of any effective payments ecosystem, especially one related to healthcare. In fact, deep customer data is what enables payment facilitators to be effective—to understand their niches intimately and develop solutions around their customers' behaviors and needs.

The next phase of healthcare record-keeping must integrate not only that behavioral information, but patients' medical and financial data as well. Because of regulatory concerns surrounding privacy and financial transactions, a holistic, transparent solution depends on companies from both the health and finance spheres working together without crossing the line into one another's operations. Payment facilitators can serve as the central hub that ties them together, providing a level of security on both ends, as well as a more user-friendly payments interface for the consumer.

While payment facilitators and their partners will create different solutions based on their core needs and functionalities, Dulin says it's likely that blockchain and artificial intelligence (AI) technologies will play a role in the ecosystems that will be built around this model.

Blockchain is attractive from both the medical-data and financial-transaction perspective because the distributed ledger technology affords companies increased data security, lower costs and potentially faster processing times. AI can be used for added transaction security—algorithms can constantly scan for suspicious activity and flag potential hacks and fraud—and faster, more cost-efficient claims management. McKinsey suggests that AI could reduce expenses related to insurance claims verification,3 not to mention alleviate the personnel burden required to assess them.

Building the Future
Innovative solutions begin with innovative partnerships, so providers, financial institutions and fintech startups should be thinking beyond existing paradigms, exploring new ways to serve customers while meeting their business goals.

To learn more about payment partnerships and the payment facilitator model, contact Discover Global Network to explore your options for improving your business and driving progress in the payments space.

References
1 "State-Level Trends in Employer-Sponsored Health Insurance, 2012-2016, United States," State Health Access Data Assistance Center, August 2017.

2 "Increases in Cost-Sharing Payments Continue to Outpace Wage Growth," Kaiser Family Foundation, June 2018.

3 "Artificial Intelligence in Health Insurance," McKinsey, September 2017.
Sponsored content by Discover Global Network.