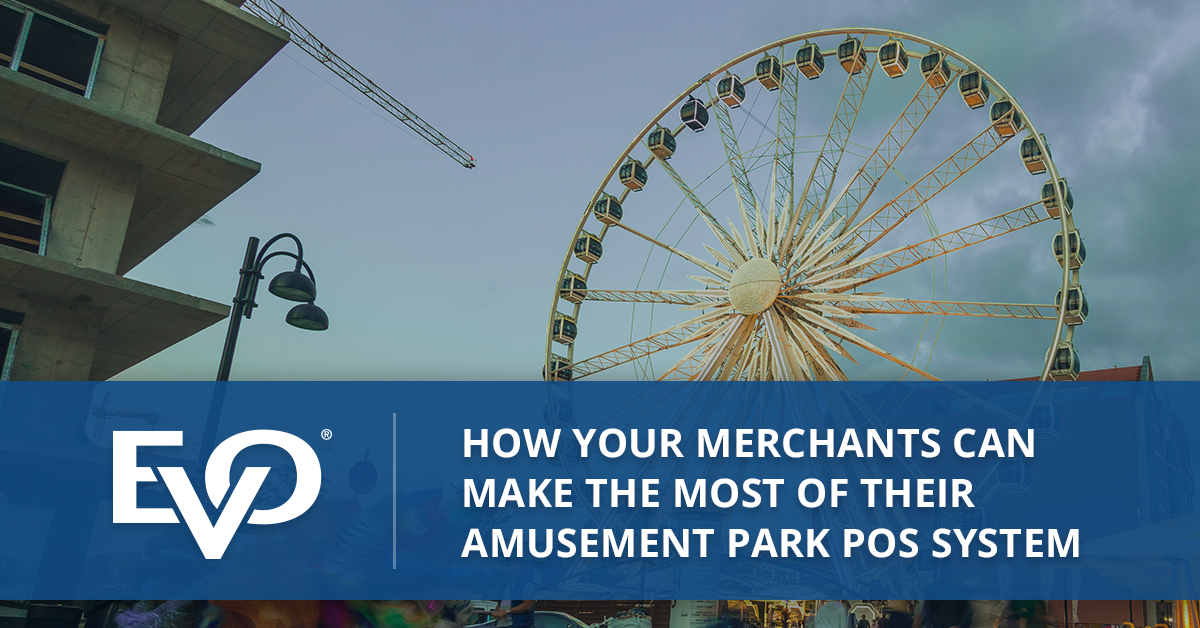 The amusement park industry is on the rise. According to a report by IBIS World, "There were 675 businesses in 2019 with a total revenue of $20 billion." No matter the size, as a value added reseller, it is important that your customers who operate an amusement park have the right point-of-sale system to ensure their customers have an enjoyable experience. We tell you what characteristics to look for that will help them handle all of their operational needs in a seamless and efficient system.
Sales Tracking
Regardless of the size of your merchants' amusement park, they need the ability to track sales for any given point in their park. Your merchants' amusement park POS system will give them the ability to do just that. Along with tracking ticket sales, their POS system will also give them the opportunity to track sales made in concession stands, gift shops, and more. Find out exactly where your merchants make most of their sales as well as the most popular times and days for sales.
Ticketing
Your merchants' amusement park POS system should give them the opportunity to maximize their sales capacity by offering more ticketing options. The POS system can be used to offer both remote ticketing and Internet sales. Create varying rules for handling different types of sales, such as discounts, gift cards, and even season ticket sales. With the ticketing capability of their amusement park POS system, they can also manage reservations and even offer advance bookings and group visits to their park.
Reporting
Whether they operate their amusement park year around or on a seasonal basis, your merchants need the ability to see exactly what is taking place with their business at any given time. Their amusement park POS system will give them the ability to run a variety of specialized reports so that they can easily see which areas of their amusement park are the most profitable.
Implementing an Amusement Park POS System
Numerous aspects are involved in operating a successful amusement park. Along with ticketing, your merchants must also manage numerous other areas, including guest services, snack bars, gift shops, and more. With the use of an amusement park POS system for each revenue area of the park, merchants are able to track customers, manage sales, and run reports to boost productivity and revenue.
Improved Customer Service
With their amusement park POS system, merchants can make the checkout process easier in each area, keeping lines short and boosting customer service. The touchscreen interface makes it possible to add items quickly and easily to transactions. Your merchants' staff can also scan barcodes to complete transactions. Flexible payment options, including integrated credit card processing, ensure that they never lose a sale. It is important for staff to learn their POS system to configure tickets and even handle online ticket orders.
Timekeeping and Scheduling
By integrating a timekeeping and scheduling solution with their amusement park POS system, merchants can manage all of the employees in their park with a single solution. Unique reporting capabilities can help them to visualize when sales are low so that you can schedule staff more efficiently. By having their employees clock in and out using the system, merchant can receive hourly labor reports while also comparing sales versus labor. Automated scheduling helps your merchants to save time.
Party Scheduling
Amusement parks are often a preferred destination for parties and other events. As a result, parties can prove to be a major source of income for your merchants' amusement park. By integrating a calendar with their amusement park POS system, they gain the ability to increase revenue through party and event booking – and easily keep track of rentable spaces, packages, deposits, and more. Whether your merchants' park is hosting a birthday party, graduation party, or other type of event, the user-friendly calendar function on their POS will help them manage it all. All it takes is the touch of a button to immediately view availability, confirmations, deposits, and cancellations.
Cashless Operations
Depending upon the nature of their amusement park, merchant may wish to operate a cashless system. A cashless system can prove to be a major point of attraction for customers, particularly for parents. With a cashless system, patrons do not need to make a purchasing decision each time they select an attraction or play a game. This method can assist in incentivizing larger upfront purchasing by giving guests the opportunity to load debit cards that they can then use anywhere in your park.
Along with making transactions easier for your guests, this type of system also provides more ways for your merchants' park to drive business. For example, customers tend to spend more upfront as well as spend more freely once value is loaded on a card. Complete flexibility allows merchants to set prices in any increment you desire. They can also adjust prices automatically based on peak and off-peak times. The system will also allow your merchants to load packages on the cards, as well as free play and discounts to encourage their customers to return. With the ability to support cashless beverage and food service, the amusement park POS system has every area of their park covered.
Amusement parks have a slew of moving parts from attractions to food services and managing employees. Those details can get overwhelming and hard to manage without the proper point-of-sale system. When finding the right fit for your merchants, it is important to consider sales tracking, ticketing, and reporting. Other factors such as improved customer service, timekeeping and scheduling, the ability to schedule parties, and convenience of cashless operations allow your merchants to have peace of mind and let their customers enjoy their amusement park experience.