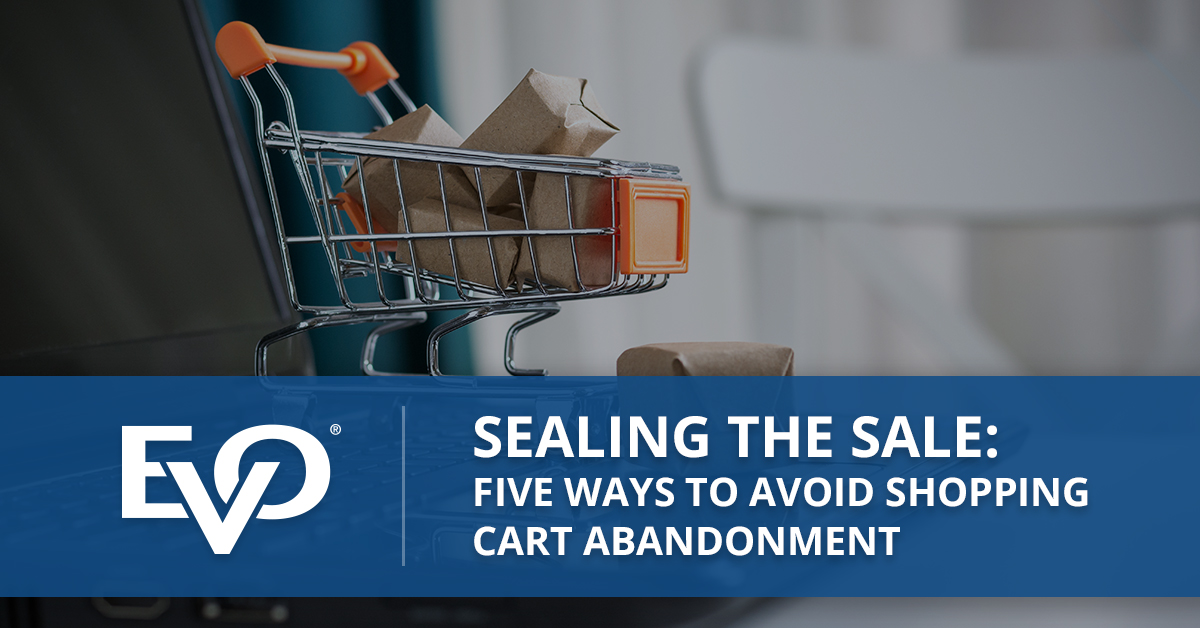 Customer experience is crucial when it comes to e-commerce business. No part of the process is more important than the final step, the checkout. Shopping cart abandonment, by those who don't follow through with the purchase, is happening at an alarming rate with the average hovering around 70%. That means out of 100 potential customers, nearly 70 of them are leaving without spending a dime. As a result, your business is losing hundreds if not thousands of dollars. We look at how to seal the sale and avoid shopping cart abandonment.
So how is this problem calculated? Cart abandonment is one minus the total number of shoppers completing transactions divided by the total number of shoppers adding items to their cart. This can be over a fixed period of time such as week, month, or even a year. According to MageMail, "Over a year, approximately $4.6 trillion worth of merchandise is abandoned." While a large percent of customers simply aren't ready to make a purchase, the reasons extend beyond that.
Unexpected Costs
This is the number one reason for shopping cart abandonment. A recent study by Baynard stated that, "60% of people abandon their carts because of the extra costs for shipping, taxes, or other fees were too high." When searching for a product, customers typically see the cost for that item or service and don't factor in the taxes or shipping costs. Once they reach the checkout page and these fees are tacked on, the total price could be more than they are willing to spend. As a merchant, you can combat this by clearly mentioning the additional fees or offering free shipping for orders over a certain amount. Customers want to see the total amount they are spending up front. The study went onto say, "Another 23% of customers abandon shopping carts because they can't see or calculate the total costs of their orders up front."
Complicated Checkout Process
The easier it is to checkout, the more likely a customer is to proceed with their purchase. When they are forced to create a user name or fill out numerous forms, it turns them off to the buying process. That is why it is important as a merchant to offer a guest checkout form that allows them to complete the transaction without opting into other forms of communication such as text and email updates. If you do have multiple forms to read, such as terms and conditions and pricing info, make sure they are precise and to the point. Lastly, the location of the checkout, call to action button, on the site is crucial to the experience. If the customer is ready to complete their purchase but have to hunt to find out how to pay for their products, it will leave a sour taste in their mouth. Make sure it is clearly located at the top of the website for all to see.
Competitive Shoppers
Everyone wants the best deal when they are shopping, whether it's at a brick and mortar store or online. Travel sites like Expedia and retail giant Amazon have made their empires on this exact premise. It's no wonder that people abandon their shopping carts after seeing the final price, only to compare what other merchants have to offer. Perhaps, they are saving them for later consideration. By enticing your customers with coupons, discounts, or additional marketing after they exit your site, you may convince them to come back and complete the checkout process with an exit-intent popup. Also, allowing them to save their cart will make it easy when they do return.
Speed and Efficiency
If your website lags or even times out during the shopping process, that is problematic. Customers want a hassle-free experience. Bogged down servers can happen at any time of the year, but even more so during the holiday rush. Another way to avoid shopping cart abandonment is to make sure that your business is optimized for mobile. According to optinmonster.com, "In 2017, 67% of desktop users abandoned carts. Tablet uses abandon their carts at a rate of 70% globally. Abandoned cart rates jump to 77.8% for mobile devices." Customers don't like to wait around, no matter what device they are using. Baynard adds, "The average ecommerce site can boost their conversion rate by 35.26% by improving their checkout design.
Security Concerns
A concern for all customers is the safety and security of their financial information. Once that trust is gone, you can count the idea of earning their business gone as well. Using a secure payment gateway is one way to make sure your website meets this criteria, but how do your customers on the outside know this? One way is to use a trust seal, which demonstrates you are concerned with their security and your business identity. According to a study by Conversion Fanatics, "Trust seals resulted in a 28.2% increase in conversions among new customers and a 19.2% increase in successful orders, as well as a 71.1% increase in revenue per visitor."
These days, customers are becoming smarter and smarter. They know when they exit a site, they may be prompted with discount codes or coupons to earn their support back. It's not a lost cause, though. It's merely an opportunity to recapture them through email marketing, social media, and targets ads.
Shopping cart abandonment is bound to happen. At an average rate of 70% to the tune of hundreds, if not thousands of dollars, the goal is to limit those numbers as much as possible. By being transparent with unwanted fees, easing the checkout process, maximizing the speed and efficiency of your website, as well as earning the trust of your customers when it comes to security, you give the customer less and less of a reason to leave.