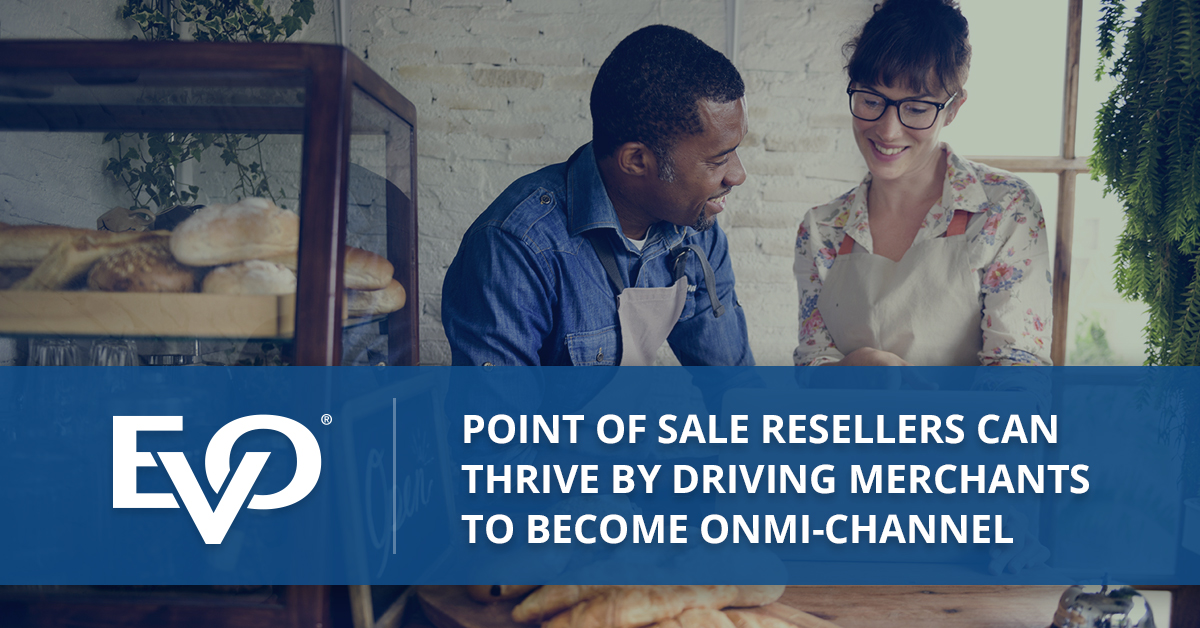 In this digital age, it is important for merchants and resellers to not only market their services with a brick and mortar operation, but online as well and across a multitude of platforms. This is called omni-channel. According to a survey by Aspect Software, businesses that adopt omni-channel strategies achieve 91% greater year-over-year customer retention rates compared to businesses that don't. With this in mind, it's vital to gain an understanding of what omni-channel can do for your merchants and how best to implement it for long-term success.
As payment preferences evolve among consumers, omni-channel is likely to become a vital part of meeting customers' expectations. Now that EMV and mobile payments are starting to gain widespread traction across the country, and people continue to move away from carrying cash in their everyday lives, merchants that aren't ready to accept these emerging payment types could fall behind their local competitors. Where omni-channel can help is that it allows your merchants to accept many different kinds of payments – from swiped credit cards to mobile purchases, and even online transactions – through a single processor. Connecting with customers across multiple platforms is what omni-channel is all about.
Where to Begin?
What merchants often have to do, then, is take a look at both their current payment processing needs and those they think they might want to adopt for future capabilities. The more channels through which a business accepts payments, the more likely they will be to benefit from omni-channel both now and in the future. Finding a provider that will help meet these goals is likely to be fairly simple, especially because working with a reseller can become a one-stop shop for support and service on an ongoing basis.
Loyalty Can Grow Quickly
The inherent value that comes with omni-channel is increasingly clear to merchants of all shapes and sizes. For companies that want to get a little more involved, payment processing is just the beginning. For instance, your merchants might want to start loyalty rewards programs, which would be handled through the omni-channel experience. "Omni" means "all," after all, and therefore it's important to remember it's designed to reach customers across plenty of platforms.

For instance, some larger businesses with truly advanced approaches to omni-channel use their smartphone apps to directly target customers with deals based on their location, but also give them more power to make purchases in-person and online, the report said. That kind of direct interactivity may help to engender customer loyalty on an ongoing basis, because it provides those people with occasional reminders that their merchant is keeping their specific preferences in mind.

Bringing Greater Vision
In addition to the fact that omni-channel makes it easier to process a wider variety of payments on multiple platforms, and can even be used to help consumers feel more connected to a business, it provides another benefit to merchants as well. Omni-channel provides a great bird's eye view of many aspects of an operation as it relates to sales and inventory. For example, if companies can effectively monitor how much stock they have through an omni-channel platform, they get a better understanding of what they need to order on a continual basis.

Moreover, this information can also be used to track returning customers – which itself goes back to the growing loyalty – and even potentially monitor customer satisfaction at the same time, the report said. While this can certainly lead to more revenue overall, the importance of engendering loyalty is clear: Repeat business is reliable when your merchants can build good relationships, and having the ability to strengthen those bonds even further is just another benefit omni-channel provides.

More Shopping Options
For companies that are now expanding their offerings into online stores, another way omni-channel can be useful for customers and companies alike is giving those people the option to buy online and pick up the item in stores. This might help consumers feel like they're getting a good deal – people love to bargain hunt online, after all – while still patronizing local businesses and saving on shipping at the same time.

Generally speaking, the more options your merchants can provide for people looking to make a purchase, the better off they're going to be when it comes to meeting the diverse needs and expectations different generations of shoppers are likely to have. This is why omni-channel is so important, and often seen as the future of online shopping, while continuing to keep brick-and-mortar stores popular.

The Technological Edge
Omni-channel is freshly emerging as an option for your merchants, which means it is also important to keep in mind that the options they get from resellers for new POS devices is also an integral piece of the puzzle. That trend is only likely to continue into the future. The more ably they can continually adapt to evolving consumer preferences, and leverage available technology to meet those demands, the better off they and their customers will be.

According to Google, "Omni-channel shoppers have a 30% higher lifetime value than those who shop using only one channel." That's encouraging news for both merchants and resellers. The ability to market your and your merchants' businesses in store, online, through mobile, and social media, helps to create customer loyalty, bring a greater vision, and give our customers more shopping options. PricewaterhouseCoopers adds, "By 2020, the demand for an omni-channel customer experience will be amplified by the need for nearly perfect execution."

Gen Z and Millennials are owning the digital age, and prior generations aren't far behind in adapting and growing with the times. Give your business the technological edge and additional revenue that being omni-channel brings to the table.