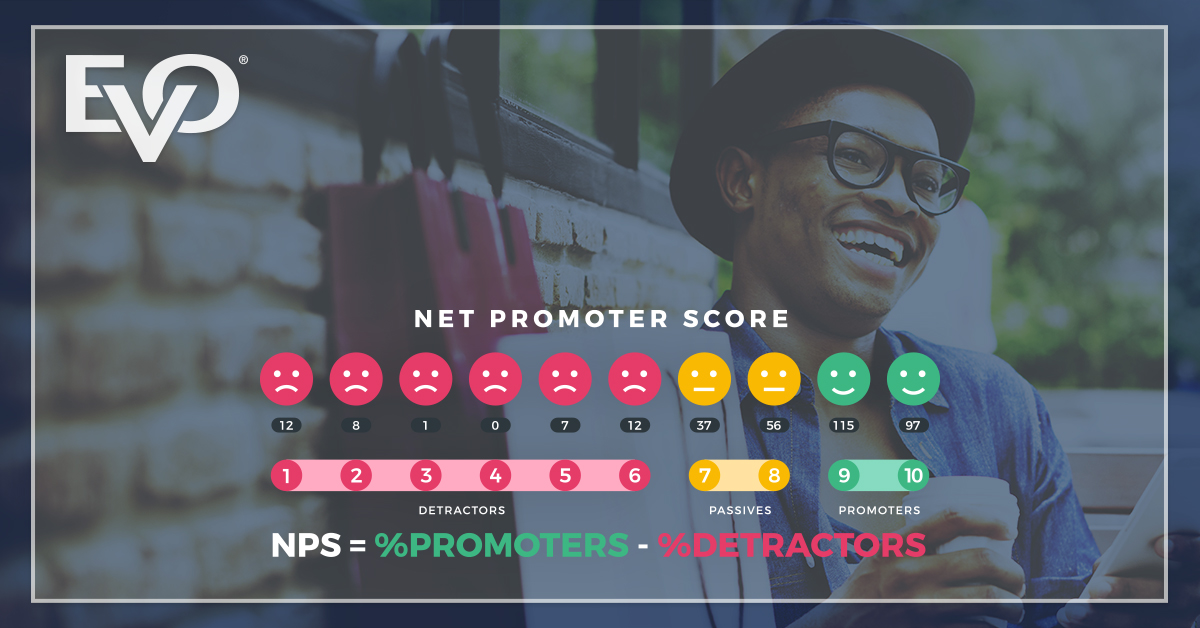 This tool is an integral way for your merchants to gain customers' opinions and gauge their loyalty.
Chances are as a consumer you've probably received a Net Promoter Score (NPS) Survey asking, "How likely are you to recommend our product or service to your friends or family?" This tool is an integral way for your merchants to gain customers' opinions and gauge their loyalty. It serves as an alternative to traditional customer satisfaction surveys and the results can correlate to potential revenue growth.
There are companies, as well as free tools, that will set up your Net Promoter Score Survey for your merchants and tabulate the results. It is important when sending it out to make sure to reach a wide sample size, both qualitative and quantitative. NPS has been adopted by two-thirds of Fortune 1000 companies. We take a look at how NPS is measured and what your merchants can learn from the results.
How do you measure it?
Net Promoter Score is based on an 11- point scale of 0-10. The results of the survey are broken up into three categories: detractors, passives, and promoters.
Detractors– These customers gave your merchant's business a rating less than or equal to six. They aren't thrilled with their product and are unlikely to give them a glowing endorsement. These are the comments your merchants want to pay the most attention to. The slightest factors could turn these detractors into promoters.
Passives– Locked in a rating at either seven or eight. This group is somewhat pleased with your merchant's product and services but could be easily swayed to switch to a competitor if given the opportunity. What is that tipping point for them to turn the page and promote their brand? Offering discounts or incentives will help. If customers had an issue with the product, maybe a tutorial or walk through guide would help.
Promoters– The most valued customers who chose nine or ten in the survey. This audience loves your merchant's business, their product, and is happy to share the good word and refer friends. Chances are they may know these folks by name or have a positive relationship with them already. Calculate the value of these promoters and reward them with loyalty programs. Learn from these ratings. What did they love and how can your merchants duplicate it in other areas?
To calculate a Net Promoter Score, subtract the percentage of Detractors from the percentage that are Promoters. For example, if 60% of respondents were Promoters and 20% were Detractors, your merchant's Net Promoter score is 40. If all of the customers answered with a 9 or 10, their score would be 100.
Why is it important?
The NPS survey can tell your merchants a lot about their customer base and their business. That's why it is important to not just get the survey out, but to analyze the results, and the feedback that comes with it.
Customer loyalty is key and if the results show a lot of Detractors or even Passives, it is time to find out what isn't working. Are they unsatisfied with the customer service or the product? Look beyond the numbers to the "why?" This will answer a lot of questions they may or may not know. This is the group your merchants should reach out to first. How can they fix their issues and resolve their problems? Making them feel like a priority could change their perception of your merchants' business and give them a second chance.
Feedback is a gift. It may be one your merchant may be surprised to find out in an area they are lacking, or it may be one of praise, and a job well done. NPS can be used to motivate their employees and business to provide the very best customer experience possible. It is important to close the feedback loop at the end of the process.
For the best results, tell your merchants to not send the survey to all of their customers at once. Instead, segment it out on a daily basis over a three or six month period of time. This will give them ample time to reach out to the respective groups 24 hours after the survey and follow up. Show the Promoters gratitude, delight the Detractors, engage the Passive responders, and reach out to the Non-Respondents.
Responding to their feedback, criticism, or praise can improve your merchant's business. According to an article by Forbes, "A 5% increase in customer retention can result in a 25% to 95% improvement in profit." Net Promoter Score is an integral tool to keep in your merchants' key performance indicator (KPI) toolbox.
Bain and Co., who originally introduced this metric, also did research into the correlation between a company's growth and its NPS. They found that for most industries, the Net Promoter Score accounts for 20 – 60% of a company's organic growth rate. Therefore, a company's NPS is a good indicator of its future growth.
Keep in mind, NPS simply measures the quality of a company's customer relationships. However, high-quality relationships are necessary for profitable growth. While regular customers aren't always profitable, their choice to stick with a product or service typically reduces a company's customer acquisition costs. Loyalty also drives top-line growth. Companies can't grow if they're losing customers, and loyalty helps eliminate this.