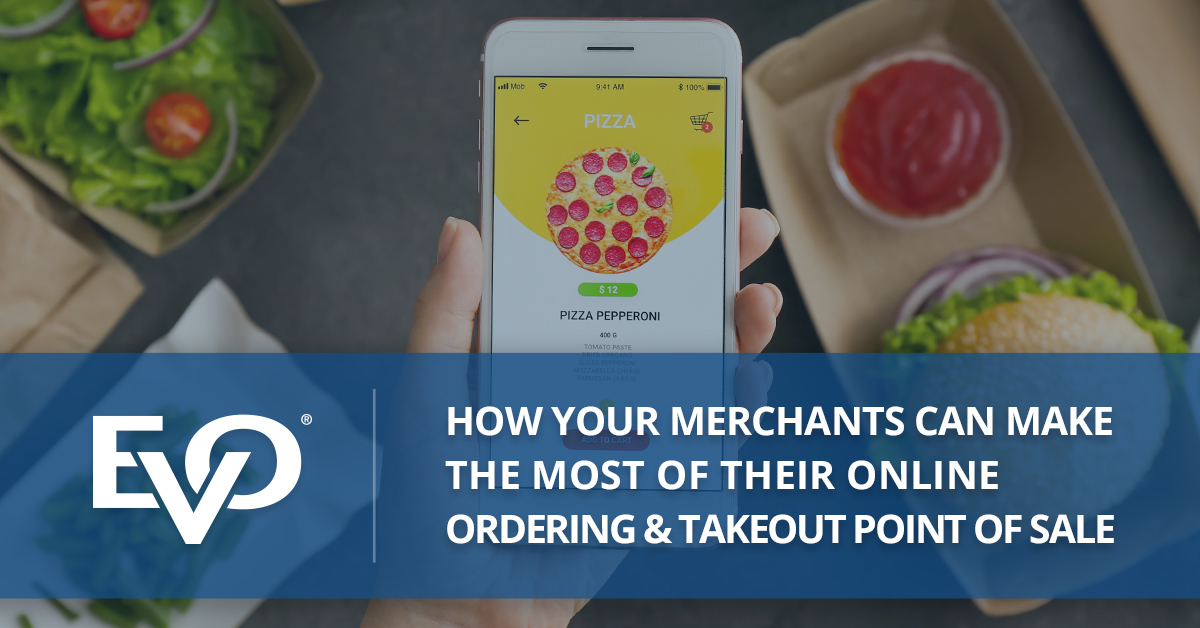 "By 2020, restaurants who don't offer online food ordering and delivery will lose over 70% of their customers."
Thanks to new technology, both business owners and customers can benefit from the ability to place online takeout orders. This can help to speed along the process for your merchants' business while providing a streamlined and easy way for customers to order their favorites from their menu. According to GloriaFood.com, "Since 2014, digital ordering and delivery has grown 300% faster than dine-in-traffic.
The key to making it work with online ordering and takeout is to ensure that no errors are made. When your merchants can provide their customers with an accurate, easy online ordering and takeout experience, they set the stage for repeat business. GloriaFood.com backed that up saying, "76% of people are likely to dine at a restaurant if they had previously enjoyed an online delivery from there." An online ordering and takeout POS system can make things easier for both them and their customers while providing the opportunity to boost profits.
Increased Profits and Lower Expenses
Mobile usage continues to grow at a rapid pace. There can be many instances in which the ability to take advantage of online ordering and takeout services would appeal to customers, including when they are working late, on their way to a party, planning a special event, or in any other situations. When your merchants provide this capability through their online ordering and takeout POS, they are able to tap into an entirely new customer base while simultaneously lowering expenses by reducing the need for delivery.
Improved Customer Satisfaction
When a customer places an order for takeout, he or she wants to know that it will be right. In the past, this could often be difficult to achieve with phoned-in orders. Today, such problems are a thing of the past. With an online ordering and takeout POS system, your merchants can rest assured that order accuracy will be improved, thus boosting customer satisfaction.
Enhanced Marketing
Their online ordering and takeout POS system will also provide merchants with the opportunity to collect customer information at the point of sale, thus increasing their customer database. Such information can be used for sending customers information about upcoming specials, discounts, and special promotions. This is a great way to broaden marketing reach.
What to Look for in an Online Ordering and Takeout POS System
Due to its very nature, an online ordering and takeout POS system must be able to handle a variety of different functions. With those functions, it becomes possible to operate your merchants' business in a more streamlined and productive manner. In order to take advantage of all of those benefits, it is important to ensure that their POS system has all of the functionality and capabilities that they need:
Flexible Ordering
In some instances, customers might choose to place orders well in advance of when those orders are actually due. That can be great for business, but it can be difficult to juggle too far in advance and can present the potential for getting orders mixed up. By choosing to have the POS system send your merchants' orders either when they are placed or hold them until a certain period of time before those orders need to be filled, they can track and manage orders more efficiently. The ability to allow customers to send orders days or weeks in advance gives their business the capability to easily handle orders for large events and businesses in an efficient manner. Re-ordering from repeat customers becomes a breeze when customers can simply view their past orders and reorder those same items to ensure a great experience.
Multiple Locations
Does your merchants' business have multiple locations? If so, it is important to ensure that the online ordering and takeout POS system that they select is able to handle more than one location. With their POS system, they should be able to control all of their locations quickly and easily from a single account. Does your merchant's' business offer more than one menu? Perhaps a menu for breakfast, lunch, and dinner? If so, their online ordering and takeout POS system should be able to handle multiple menus with ease.
Coupons and Specials
Offering coupons, discounts, and specials can be a great way to reward loyal customers while also driving new customers to try their business. Whether it is sending out a thank you to a repeat customer or sending out special discounts for customers on their birthday, the POS system they select should give them the ability to provide online coupons and offers.
Reporting and Statistics
As is the case with any business, it is important for your merchants to be able to run reports to see how their business is performing at any given time. Their POS system can give them this capability without causing them to spend hours poring over spreadsheets. Whether your merchant wants to find out their busiest time of the day, or even day of the week is, their POS system can give them the statistics they need to learn about orders, sales, customers, and more.
When setting up your merchants' online ordering and takeout point-of-sale system, it is important to take into account flexible ordering, multiple locations, coupons and specials, as well as the ability to run reports and statistics. According to GloriaFood.com, "By 2020, restaurants who don't offer online food ordering and delivery will lose over 70% of their customers." Choosing the right point-of-sale system can increase profits and lower expenses, improve the customer experience, as well as increase their marketing footprint.