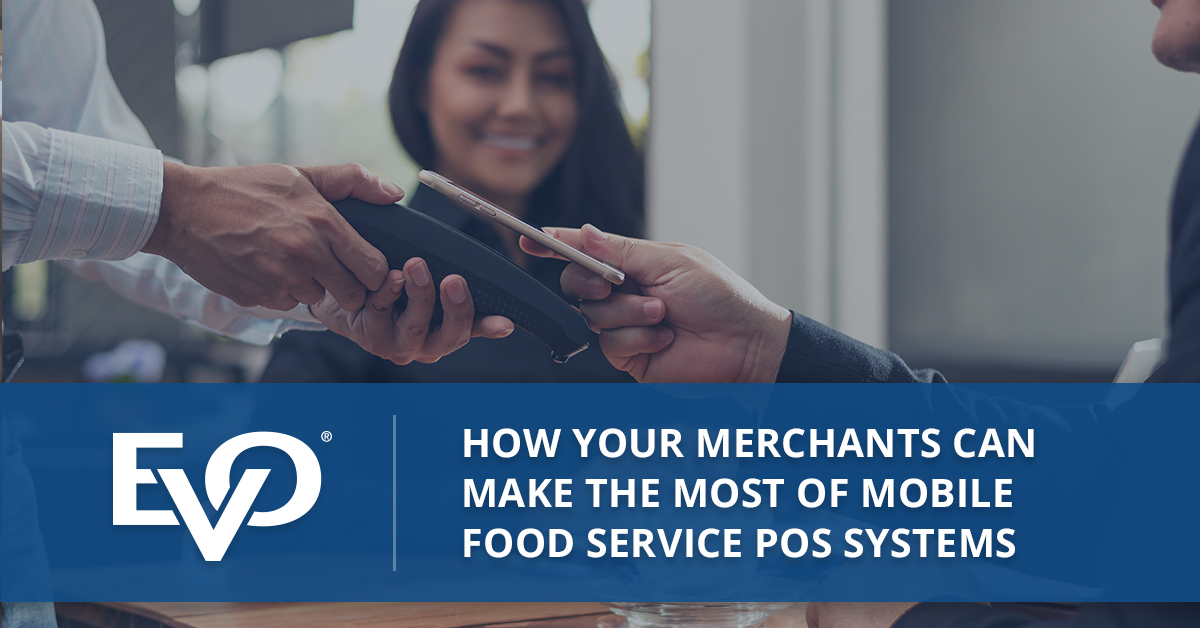 Operating a mobile food truck often means that your merchant must be able to make changes on the fly. Whether they operate a taco truck or an ice cream truck, a key to success in the mobile food business is to be able to work quickly and accurately.
According to foodtrucknation.com, "The food truck industry is now $2 billion-plus in estimated revenue across the U.S. Compared to 2014, the industry's overall revenue has grown 300% in the last three years."
A POS system designed specifically for the mobile food industry gives your merchant access to the information they need in real time while helping to keep customers happy and lines moving quickly. As their reseller and trusted advisor, here are several items and features for your merchant to look for to help ease them in the process, make the most of their POS system, and help them better manage their business.
Move Lines Quickly
When it comes to peak serving times, things can get hectic quickly when you operate a food truck. While on one hand it is nice to see lines wrapped around the block to get a taste of your creations, you know you must move quickly to keep customers happy. A POS system for mobile food trucks allows you to do just that. Transactions are concluded quickly and easily so that customers do not get frustrated and leave the end of the line.
On-the-Go Sales Tracking
Real-time tracking is vital for any business. When it comes to running a mobile food truck, it becomes even more important. As a result, you can make on-the-spot decisions for improved business planning. Analyze details for each transaction, including shift data. You can even study transaction data for specific time periods that you select so that you can gain greater insight into peak times for your business. Even better, real-time reporting info is available from your tablet or smartphone. Not sure which item is selling best from your mobile food truck? Wondering whether you should promote some items more or maybe even modify your menu? The reporting function on your POS will help you to better understand your business.
Simple Inventory Management
With a POS system for your mobile food truck, you can add, receive, and make changes to your inventory. This can significantly free up time that can be put toward more important tasks than stock counts. You also gain complete control over your inventory so that you will know when you need to reorder an item. If you find that you are continually running out of a particular item too quickly in your mobile food truck, you can access sales data and then study it to determine exactly how much you need to order next time.
Customer Service
Regardless of how robust a POS system may be, it is important to ensure that it has the customer service that you need. A problem can occur at any time. Sometimes, you simply may have a question about how to schedule something on your POS. Whatever the case may be, it is important to ensure that the point of sale system you select for your mobile food truck will provide you with live customer support around the clock.
Credit Card Acceptance
In the past, mobile food truck vendors were often limited to accepting cash transactions only. This could significantly reduce business and limit your pool of customers. Today, with a POS system that allows you to accept credit cards, you can increase your customer base and make your customers happy. The ability to accept credit cards also allows you to move customers through the line much faster, thus increasing your turnaround.
Choosing the Right Features
Mobile food trucks operate in a completely different manner than sit-down restaurants and even fast food restaurants. You must provide quicker turnaround and you must be concerned about issues that are not relevant to other types of food establishments. In an article by Mobile-Cuisine, "Almost all diners interviewed planned to continue patronizing food trucks and loved the speed, convenience, quality and price of food service."
With the right point of sale system, you can gain the insight into your business to watch it grow. In order to take advantage of all of those many benefits, you need to ensure that your POS system has all of the right features.
Hardware Requirements
In choosing a POS system for your mobile food truck, you need to consider the hardware requirements for the system. For instance, does it include a receipt printer and a credit card reader? Will you need to obtain additional hardware for your point of sale system? All of these are important factors to consider in order to choose a POS system that has everything you need for your mobile food truck without the need to invest in additional equipment later.
Complete Solution
Does the point of sale system provide a complete solution for your mobile food truck? With the right POS system, it should be easy to ring up customers, submit orders, schedule employees, track inventory, and print reports. You should also be able to manage marketing campaigns by sending promotional materials and emails. A point of sale system that acts as a one-stop solution for all of your management needs can help you to operate your mobile food truck in a more efficient and profitable manner.
Choosing the right POS system for your mobile food truck can improve the customer experience. In a growing industry, that loyalty is key. According to foodtruckoperator.com, "Food truck growth is even outpacing overall commercial foodservice, such as restaurants, at a growth of 5.4 percent versus 4.3 percent." Use the tools in your POS system to accelerate your business as the market accelerates as well.