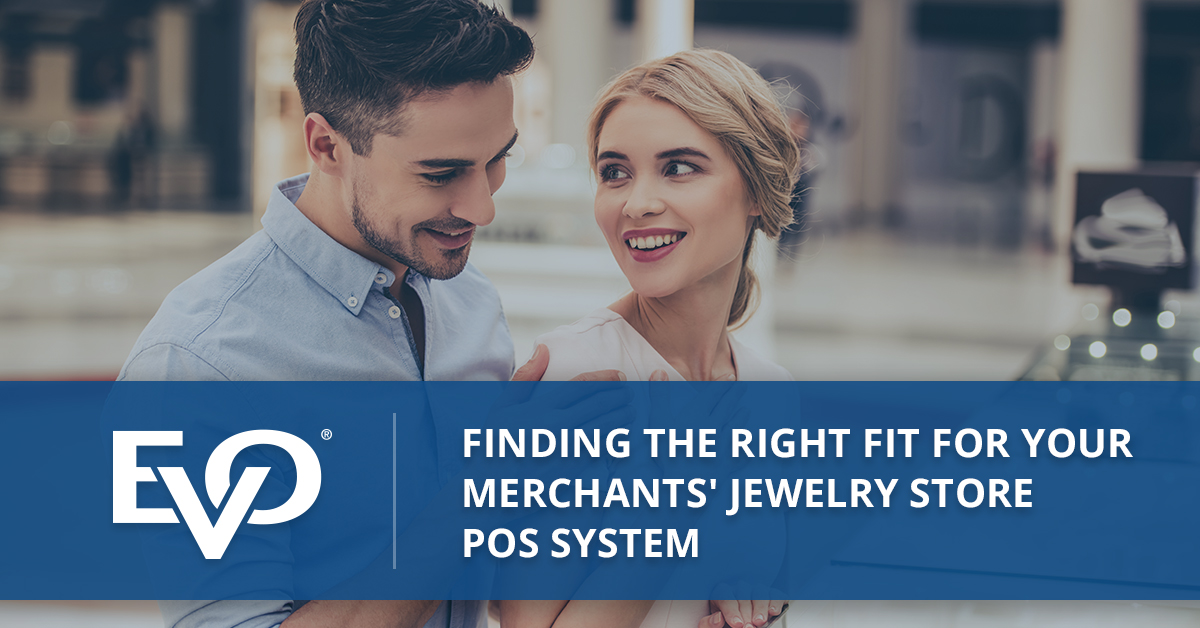 Jewelry stores derive their income from not only selling but also often servicing various types of jewelry. Such services might include engraving, cleaning and repairing jewelry. While some stores may specialize in a specific type of jewelry, most stores offer a variety of different styles. According to a Statista report, "Revenue in the jewelry segment amounts to $18.6 million in 2019 and is expected to grow annually by 0.9%." We take a look at the factors that a value added reseller can help them look for in a point-of-sale system for their jewelry store.
Inventory Tracking
Given the vast assets kept in stock in a jewelry store, accurate inventory management is a must for any jewelry store owner or manager. The POS system that your merchants select should give them the ability to continually monitor the jewelry they have in stock so they know which items are popular and which items may require additional promotion. Inventory tracking through their POS will also help them to quickly identify any losses.
Sales History
The ability to track sales history is vital for any type of retail establishment. In the case of a jewelry store, it is important to be able to quickly identify items purchased in the past so that your merchants can provide improved customer service. This can be particularly true in the event that an item purchased from their store should require service in the future. With a robust jewelry store POS, it is possible to quickly access sales history information. The POS can also provide detailed sales reports so that merchants can gain increased insight into the success of their business.
Sales tracking capabilities can also help them determine which of their employees are most productive. Reports can also be generated for the purposes of tracking peak sales times for the purposes of ensuring they always have the right amount of staff on hand, particularly during the holidays and special occasions.
Customer Accounts
Customers to jewelry stores are often repeat buyers. Repeat business often involves purchasing items for special occasions. With the ability to store and access information regarding sales history with their POS, merchants will be able to provide their customers with far greater customer service. Their jewelry store POS will also give them the ability to create marketing campaigns and promotions to reach out to customers for upcoming events in their lives or to let them know about any specials or promotions that your merchants may be holding. This is a great way to encourage customer loyalty and boost revenue.
Setting up a POS for your Jewelry Store
A variety of factors will need to be considered in choosing and setting up a POS for your merchant's jewelry store. The size of their jewelry store as well as the services provided may dictate precisely what they will need in a jewelry store POS system.
Number of Terminals
One of the factors that should be taken into consideration is the number of terminals that your merchants will require for their jewelry store POS. This may largely depend upon the size of the store and the number of employees they have working at any given time. Merchants should also consider whether they will be able to add additional terminals in the future if they see that an increase in business calls for such an addition.
Integrated Payment Processing
Customers entering your merchant's store to purchase jewelry may need to use one of a variety of different payment options. The POS they select for their jewelry store should provide the capability to accommodate a variety of payment choices, including cash, check, debit card, and credit card. If they offer any type of special financing arrangements or even layaway for jewelry purchases, their POS system should also be able to easily accommodate those types of flexible terms, as well.
Scalability
Jewelry stores may provide a variety of different types of services to meet the needs of their customers and take advantage of multiple income streams. If your merchant offers other services, such as repairs or engravings, it is important for the POS they select provides the ability to include those services. In the event that merchants opt to open an additional location, or if they already have multiple locations, a jewelry store POS should be able to easily track inventory and sales between the various locations.
Customized Online Storefront
While much of the business that your merchants receive may stem from walk-ins, the internet also presents them with the opportunity to expand their operations and marketing base with online sales. The right POS should give them the ability to enter any of the jewelry in their inventory so that it can be made available for ordering and purchase through an integrated online storefront.
A quality point-of-sale system for a jewelry store will give merchant the ability to track inventory efficiently as well as handle sales and manage customer accounts. Due to the often personal nature of jewelry sales, it is vital that the POS they select for their jewelry store offer the ability to integrate sales history and customer profiles. In addition to the factors above, your merchants' should consider the number of terminals required for their store, the scalability of your system, and the ability to create a customized online storefront. These items will help your merchants increase their productivity and their bottom line.