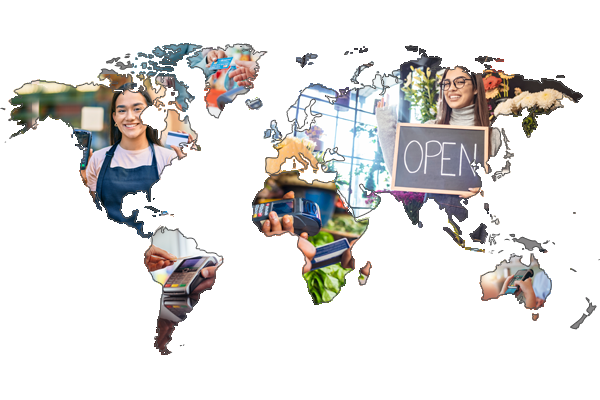 EVO's commitment to expanding a secure digital commerce ecosystem is at the core of our business. By pursuing innovation, making financial investments, and cultivating partnerships that enable digital payment acceptance, we improve the financial health of the global communities in which we operate and foster economic growth.
ENABLING FINANCIAL INCLUSION
Our products and services provide quality of life benefits to communities around the world.

Transacting for everyday necessities
EVO's suite of digital products and services help foster frictionless commerce systems that are convenient and secure for both merchants and consumers, providing people with better options to pay for necessities, such as food, clothing, medicine and transportation.

Creating growth opportunities for merchants
EVO enables multiple forms of digital payments acceptance for merchants around the world, including local alternative payment methods such as Girocard in Germany and Blik in Poland. We believe that by offering a full suite of digital payments solutions, our small and medium sized merchants will have more open and inclusive access to participating in the global economy.

Transacting safely and seamlessly
Consumers choose electronic payments because they derive substantial quality of life benefits from seamless transactions both at the point of sale and online. We enable merchants to provide these benefits to consumers, underpinning the continued displacement of cash by electronic payments. While participation in the electronic commerce ecosystem involves inherent risks, our strong data privacy and security policies and operating requirements enable safe transaction and credential requirements.
PARTNERING FOR INCLUSION
We partner with financial institutions and governments to increase access to financial services, creating opportunities for small and medium-sized businesses in underserved communities and strengthening economies.

Cashless Poland
EVO provides small merchants with payment terminals that meet regulatory hardware and software requirements to enable cashless payments in Poland. These efforts benefit economic growth by improving efficiency of commerce, especially in rural areas, increasing government tax revenue generation, and reducing cash-based illegal activity. In addition, we provide businesses with technical training to support them by ensuring they are fully equipped to accept digital payments.

The Czechia pays by card
EVO provides merchants with payment terminals to enable digital payment acceptance to help them improve revenue streams and operations, which enhances the financial security and vitality of small merchants and their employees.

Codi Mexico
Since 2019, we have worked with the Mexican Central Bank to solve financial problems for un- and underbanked people in Mexico. We enable our merchants to utilize the Codi platform based on QR codes and near-filed communication (NFC) technology in mobile phones to transact through Mexico's SPEI system to expand digital payment adoption and reduce cash-based illicit activity.
The Securities and Exchange Commission (SEC) has not promulgated any rules about the presentation of, or metrics related to, certain ESG matters. Accordingly, the information we present may not be directly comparable to that presented by other companies. The information presented on this webpage often is based on statistics or metrics that are estimates, makes assumptions based on developing standards that may change, and provides aspirational goals that are not intended to be promises or guarantees. Accordingly, investors should not place undue reliance on the information set forth in this section of our website.
EVO periodically reviews and updates the content of this website. EVO reserves the right to revise or modify any information, programs or benefits in its sole discretion. Certain of the information included in this website is dated. In such cases, the statements speak only as of the date thereof. We undertake no obligation to update any of these statements to reflect events or circumstances after their date or to reflect actual outcomes, unless required by law. Accordingly, any person or candidate should not rely upon the content of this site as the most current information regarding EVO's internal policies.
EVO Payments Inc. is an equal opportunity employer, committed to the hiring, advancement and fair treatment of individuals without regard to race, color, religion, gender, sexual preferences, age, national origin, ethnicity, disability or veteran status, or any other protected status designated by federal, state, or local law.