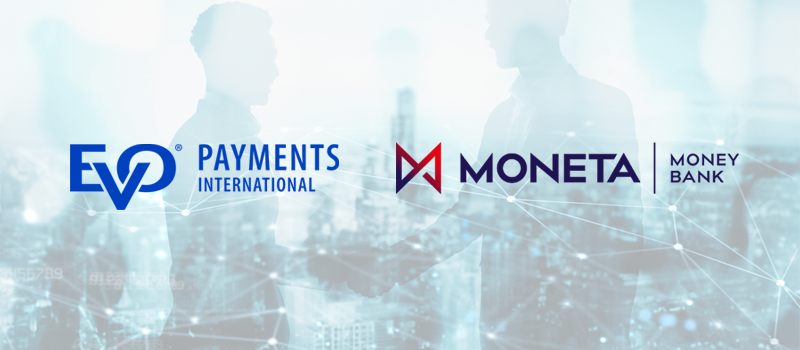 Atlanta – April 26, 2018 – MONETA Money Bank (MONETA) and EVO Payments International (EVO) have reached agreement on a long-term strategic partnership in which EVO will provide payment acceptance services to MONETA´s merchant customers. Already doing business in the Czech Republic, EVO will leverage its existing infrastructure to provide MONETA´s merchants a full suite of secure processing services, innovations in digital transactions, and advanced technologies to support the bank's strategic growth objectives in commercial banking.
"Our partnership with EVO is a significant expansion of our product offering for commercial customers," said Erik Howell, Head of Small Business Products and Marketing MONETA Money Bank. "The alliance gives us a market-leading platform to expand our transactional banking services while meeting the ever-changing payments needs of our merchants. Providing best-in-class solutions from EVO to our valued customers supports their continued business growth."
James G. Kelly, CEO of EVO Payments International, stated, "We are delighted to enter into a long-term partnership with MONETA. We believe our newly formed alliance is a win-win for both Moneta and EVO. We look forward to enhancing the experience of MONETA´s banking customers and supporting the bank's overall growth in the Czech Republic."
About MONETA Money Bank
MONETA Money Bank, a.s., is a leading independent Czech bank whose shares have been listed and freely traded on the Prime Market of Prague Stock Exchange since 2016. The bank has focused on retail and SME oriented business model with a strong position in the consumer and agriculture segments. In addition, the bank provides customers with insurance products and investment funds. MONETA Money Bank serves more than 9% of the Czech population via an omni-channel distribution strategy which includes more than 200 branches and 640 ATMs, a market-leading digital banking platform, a call centre, auto dealers, brokers and leasing partners.
About EVO Payments International
EVO Payments International is a leading payments service provider of merchant acquiring and processing solutions for merchants, Independent Software Vendors (ISVs), financial institutions, Independent Sales Organizations (ISOs), government organizations and multinational corporations located throughout North America and Europe.
A principal member of Visa and MasterCard, EVO offers an array of innovative, reliable and secure payments solutions and merchant services, backed by an uncompromising commitment to exceed the expectations of our customers and partners.