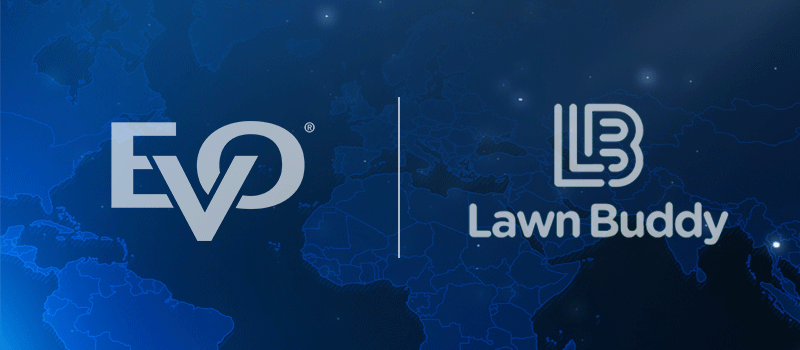 ATLANTA — October 4, 2022 — Lawn Buddy and EVO Payments, Inc. ("EVO") have entered into a strategic partnership that will provide Lawn Buddy customers with an easy, affordable, and fast way to process payments.
This partnership brings together Lawn Buddy, a powerful software servicing lawn and landscape professionals and EVO, a leading global provider of payment technology integrations and acquiring solutions.
The combination of Lawn Buddy's web and mobile-based software with EVO's credit card and ACH processing and value added solutions such as card-on-file will enhance the ability of lawn and landscape service providers to get paid on time, every time.
"We are excited to partner with Lawn Buddy to enable EVO's acquiring and processing services and secure PayFabric gateway for Lawn Buddy's new and existing software customers," said Brendan F. Tansill, EVO's President, the Americas. "Lawn and landscape professionals will benefit from our secure payment solutions delivered via a seamless integration to their existing Lawn Buddy software suite."
"At Lawn Buddy we are always looking for ways to improve our product and provide more value to our customers." said Steven Werner, Chief Executive Officer of Lawn Buddy. "This partnership with EVO does just that. With ACH and card on file, our customers will enjoy a completely integrated payments solution, are guaranteed to get paid and will spend less on processing fees."
About Lawn Buddy
Lawn Buddy is a powerful app and web platform built for lawn and landscaping professionals to better manage their business.
The platform enables lawn care professionals to, on average, 10X their business and get paid 5X faster. With essential features like automatic invoicing, digital payments, job scheduling, crew management, and more, Lawn Buddy is the must-have software for all lawn and landscape professionals looking to streamline and grow their business.
Lawn Buddy is built in America and veteran owned.
About EVO Payments, Inc.
EVO Payments, Inc. (NASDAQ: EVOP) is a leading payment technology and services provider. EVO offers an array of innovative, reliable, and secure payment solutions to merchants ranging from small and mid-size enterprises to multinational companies and organizations across the globe. As a fully integrated merchant acquirer and payment processor in over 50 markets and 150 currencies worldwide, EVO provides competitive solutions that promote business growth, increase customer loyalty, and enhance data security in the international markets it serves.
For more information, contact:
Sheri Shiver, Head of Marketing, Lawn Buddy
571-234-2202
sheri@lawnbuddy.com
Sarah Jane Schneider, Investor Relations & Corporate Communications Manager, EVO Payments
770-709-7365
sarah.schneider@evopayments.com
---