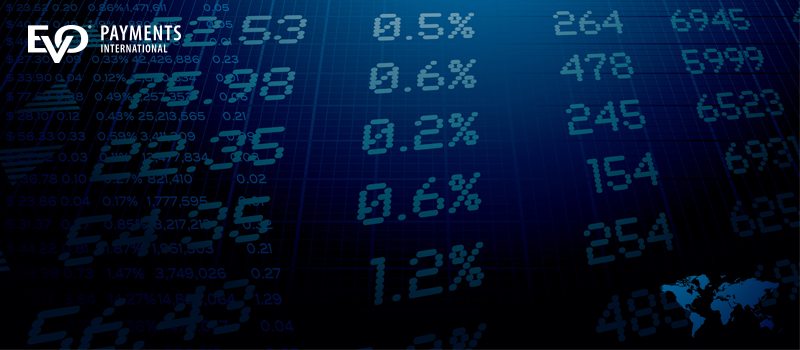 Atlanta – May 10, 2018 – EVO Payments International ("EVO") announced today that it has launched the roadshow for the initial public offering of its Class A common stock. EVO is offering 13,333,333 shares of its Class A common stock at an initial public offering price between $14.00 and $16.00 per share. The offering also includes 666,667 shares of Class A common stock being offered by a selling stockholder. EVO expects to grant the underwriters a 30-day option to purchase up to an additional 2,100,000 shares of common stock at the initial public offering price, less the underwriting discounts and commissions, to cover over-allotments. The shares are expected to trade on The Nasdaq Global Select Market under the ticker symbol "EVOP."
J.P. Morgan, BofA Merrill Lynch, Citigroup, Deutsche Bank Securities, and SunTrust Robinson Humphrey are acting as the book-running managers for the proposed offering, and J.P. Morgan is acting as representative of the underwriters for the proposed offering. Barclays, Cowen and Company, Goldman Sachs & Co. LLC, PKO BP Securities, Regions Securities LLC and William Blair are also acting as book-running managers for the proposed offering. The proposed offering will be made only by means of a prospectus. Copies of the preliminary prospectus, when available, may be obtained from:
J.P. Morgan Securities LLC, c/o Broadridge Financial Solutions, 1155 Long Island Avenue, Edgewood, NY 11717
BofA Merrill Lynch, NC1-004-03-43, 200 North College Street, 3rd floor, Charlotte, NC 28255-0001, Attn: Prospectus Department, email: dg.prospectus_requests@baml.com
Citigroup, c/o Broadridge Financial Solutions, 1155 Long Island Avenue, Edgewood, NY 11717 (Tel: 800-831-9146)
Deutsche Bank Securities, Prospectus Group, 60 Wall Street, New York, NY 10005, via telephone: 1-800-503-4611 or via email: prospectus.cpdg@db.com
SunTrust Robinson Humphrey, 3333 Peachtree Road NE, 9th Floor, Atlanta, GA 30326, Attention: Prospectus Department; email: strh.prospectus@suntrust.com; telephone: 404-926-5744; or fax: 404-926-5464
A registration statement relating to these securities has been filed with the U.S. Securities and Exchange Commission but has not yet become effective. These securities may not be sold, nor may offers to buy be accepted, prior to the time the registration statement becomes effective. This press release shall not constitute an offer to sell or the solicitation of an offer to buy, nor shall there be any sale of these securities in any state or jurisdiction in which such offer, solicitation or sale would be unlawful prior to registration or qualification under the securities laws of any such state or jurisdiction.
About EVO Payments International
EVO Payments International is a payment services provider of merchant acquiring and processing solutions for merchants, Independent Software Vendors (ISVs), financial institutions, Independent Sales Organizations (ISOs), government organizations and multinational corporations located throughout North America and Europe. A principal member of Visa and MasterCard, EVO offers an array of innovative, reliable and secure payments solutions and merchant services, backed by an uncompromising commitment to exceed the expectations of our customers and partners
.