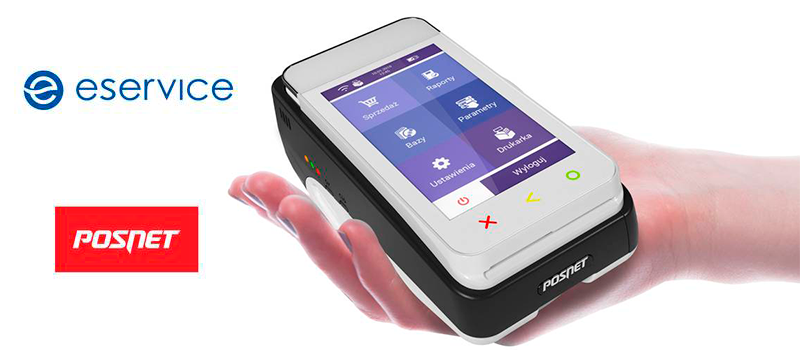 ATLANTA—December 10, 2018—EVO Payments, Inc. (NADAQ: EVOP), ("EVO") a leading global provider of payment technology integrations and acquiring solutions, announced today a strategic relationship between eService Sp. z o. o. ("eService"), an EVO subsidiary, and POSNET Sp. z o.o. ("POSNET"), a leading POS solutions provider in the Polish market, to offer a state-of-the-art POS solution to businesses in Poland.
Under the terms of the new relationship, eService's payment application will be installed on POSNET's innovative "Pospay" device. Pospay is the first mobile-operated device in Poland to integrate the functions of a payment terminal, a cash register, and a printer, ultimately making payment processing more efficient, safe, and compliant with Poland's fiscal reporting rules.
"eService immediately stood out as the obvious payment solutions provider with whom to launch our new Pospay device. The company's high quality service and leading market position in Poland make eService a great strategic partner for us, and we are confident they will help facilitate the success of Pospay," stated Robert Abramczuk, President, Management Board, POSNET.
"POSNET's innovative products and excellent distribution network have driven its success in the market. Both eService and POSNET plan to leverage their respective expertise in order to deliver Pospay, an industry-leading, integrated solution, to new and existing Polish merchants," added Joanna Seklecka, President, Management Board, eService.
As a result of this relationship, eService and POSNET expect to deploy the new Pospay point-of-sale solution to both new and existing merchants beginning in early 2019. The arrangement will allow eService to leverage POSNET's salesforce and ongoing relationships to increase its distribution of payment solutions in the Polish market.
Pospay will qualify as a leasable point-of-sale solution under the Cashless Poland Program, a joint initiative of the Polish Ministry of Entrepreneurship and Technology, the Polish Bank Association, and Polish payment services providers. As a leasable POS solution, Pospay will be more accessible and affordable to merchants, accelerating its adoption and implementation.
About EVO Payments, Inc.
EVO Payments, Inc. (NASDAQ: EVOP) is a leading payment technology and services provider. EVO offers an array of innovative, reliable, and secure payment solutions to merchants ranging from small and mid-size enterprises to multinational companies and organizations across North America and Europe. As a fully integrated merchant acquirer and payment processor in over 50 markets and 150 currencies worldwide, EVO provides competitive solutions that promote business growth, increase customer loyalty, and enhance data security in the markets it serves.