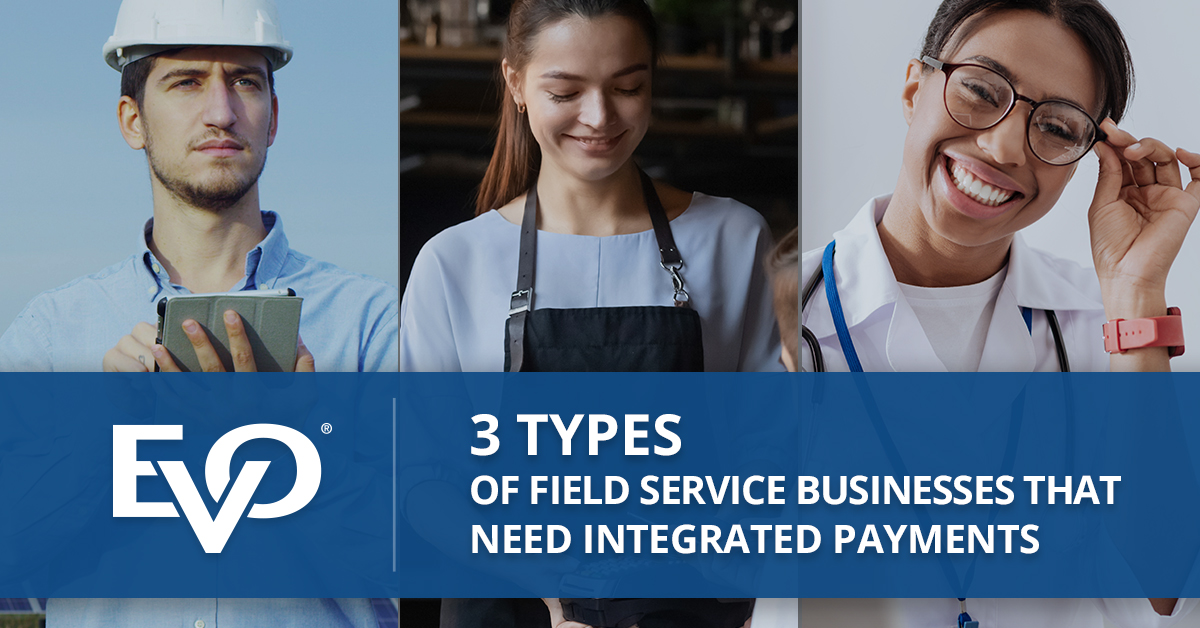 To give your clients the greatest benefits, you need to integrate your application with the right payments solution.
Field service management solutions and mobile technology have revolutionized the industry by streamlining processes and significantly improving customer experiences. Legacy processes that involve manual recordkeeping require field workers to make trips back to the office to update records and initiate invoicing. Paper-based processes put a limit on productivity and make real-time updates impossible. Integrating payments with field service applications, however, gives businesses the ability to accept payments on-site, reduce paperwork, collect revenues faster, and minimize the number of late payments.
Enabling mobile or online payments and recurring billing can also add convenience for customers who want to manage their accounts on the spot, pay monthly bills automatically, or reduce paper waste.
Although integrated payments, which eliminate having to enter data or reconcile credit card payments manually, can benefit field service organizations in a wide range of verticals, ISVs developing solutions for the following markets can add significant value by integrating payments with their applications:
Home Healthcare
The home healthcare market is expected to grow at a CAGR of 7.8 percent through 2026, driven by the needs of an aging population, a growing number of people with chronic conditions, and cost savings of in-home care compared with hospital stays. It's becoming more common for patients to have at least some responsibility for the cost of their care, whether they need to satisfy a deductible or copay — or foot the entire bill. Enabling home healthcare workers to accept payments when providing services can improve patient engagement and be one less thing for patients to worry about during their recovery.
Payments integrated with a home health worker's mobile application or the organization's online patient portal is also beneficial for the home healthcare organization. Allowing patients to pay at the time of service helps avoid confusion that can occur when bills arrive weeks or month after the fact. It can also be beneficial to give the patient the option of setting up recurring billing to cover substantial charges. Integrated payments can mean a more predictable flow of revenue, fewer delinquent accounts, and fewer resources assigned to collections.
HVAC, Building Repair, and Landscaping
For businesses that provide services such as construction, plumbing, electrical, heating and air conditioning, or landscaping, integrating payments with mobile applications and management software can help improve the company's bottom line. Accepting payment on-site saves the time and labor required to invoice and collect payments. If field workers' mobile applications integrate with accounting programs, data is automatically shared, creating even greater efficiency and reducing errors.
Payments integrated with mobile applications can give technicians the ability to preauthorize charges for emergency repairs or additional repairs that are needed once they get to the job site. Payment data can also help create an accurate customer history, tracking the dates, model numbers, and other details of past purchases.
Food Service and Catering
Catering, party rentals, and food service orders are often taken with a down payment and the balance due on delivery. The catering or food service business may even choose to preauthorize the balance, ensuring that the customer can cover the amount. Integrated payments enables customers to pay conveniently with a credit card when orders arrive — taking all of the friction out of the payment process.
How to Choose the Right Payments Partner
To give your clients the greatest benefits, you need to integrate your application with the right payments solution. When you vet payments companies and their technology in search of the best choice for your customers and the best partner for your business, make sure the company:
Enables your clients to accept all payments types easily and securely
Is familiar with your clients' industry and their specific payment processing needs
Provides you with support throughout the integration process
Assigns a dedicated account representative to assist you
Has an excellent track record of providing support to end users
The field service industry has embraced technology for its ability to reduce the burden on administration and help field workers boost their productivity. Integrating payments is another step toward greater efficiency and a better bottom line that can help your clients' operation — and your ISV business — grow.